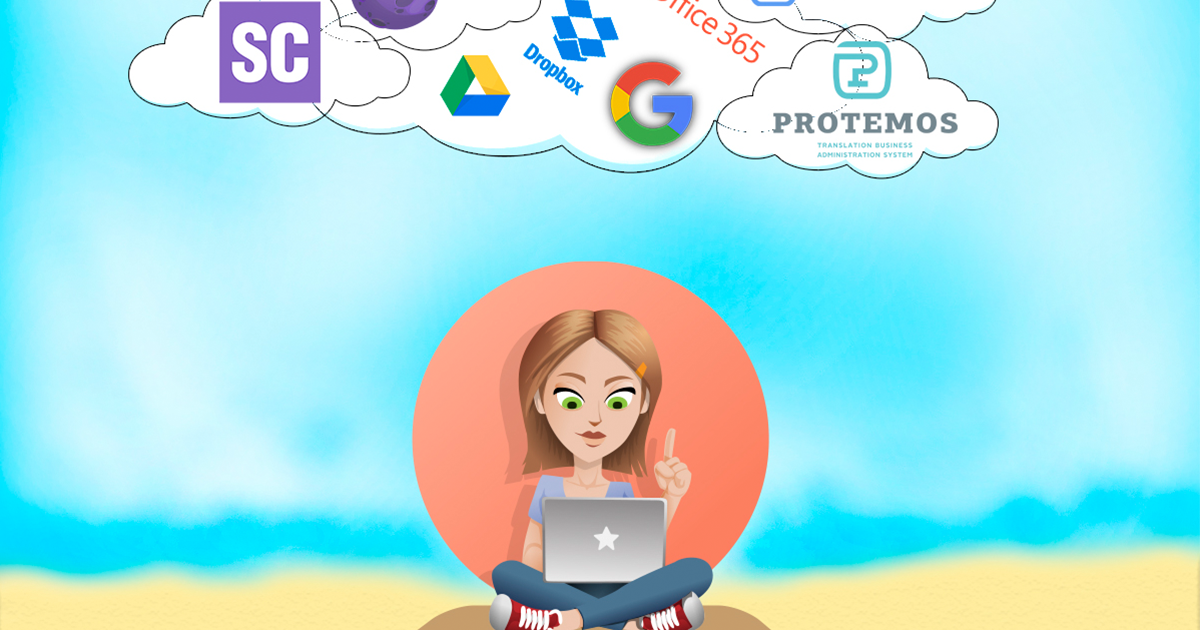 Recently, we reported on the integration of TMS Protemos with the smartCAT platform. This cooperation between our companies is not accidental. The reasons, as well as prospects for joint development, were discussed during an interview with representatives of smartCAT, Pavel Doronin and Arseniy Konov, and the head of Protemos, Vladimir Kukharenko.
The smartCAT platform was created relatively recently. This is a project created by a team of enthusiasts who are constantly working on improving their system and trying to make it more convenient and useful for users. Similarly, Protemos is also quite a new product, which will be beneficial in supporting a company that has already announced itself in the market. Perhaps both products are very young, but the people behind them have a desire to work and develop them in order to provide users with the most convenient and functional working environment. This allows us to believe that these companies will be able to move the "dinosaurs" in the market.
How did the idea of ​​creating such a system as Protemos come about?
Initially, the Protemos system was created as an internal product. It was developed specifically for the translation company Technolex, where before they used third-party tools that did not fully meet the needs of the company. The result of finding the optimal solution was the creation of the Protemos system, which was preceded by a thorough analysis of the possibilities and shortcomings of existing project management systems, as well as the needs of users. The developers paid special attention to the ease of use, because the main drawback of the most common systems is their complexity. With some of them, it is extremely difficult to understand, even as an experienced specialist, not just a beginner.
Protemos is not the first project by the developers in this field; their first product was the ChangeTracker application, which was also originally created exclusively for internal use.
ChangeTracker is a PC-based program for tracking changes in translations, which simplifies quality monitoring and the training of translators. Since this tool was very useful, they decided to share it with their colleagues in the shop and created a site with the possibility of free downloading of the application. No measures were taken to promote or advertise this product, but several years later it turned out that ChangeTracker had been downloaded more than 12,000 times. This was confirmation that the Protemos team had created a really high-quality product.
Later, a decision was made to improve ChangeTracker—and the TQAuditor system was created as its successor. In addition to the functions provided by ChangeTracker, it provides automation of providing feedback to translators, as well as collecting statistics on the quality of work (including to take into account the topic), the ability to easily identify the best translators and the most stringent editors, and using a cloud storage system. Technolex TQAuditor has been in use for more than three years, but the idea of ​​integration with TMS systems was not realised because their developers did not show an interest. This was the decisive impetus for the creation of Technolex's own translation project management system: Protemos
If we sum up what has been said above, the main reasons for the creation of Protemos are as follows:
- the need to have a simple and effective project management tool;
- the ability to integrate the system with other products of its own design.
Can a product designed for a particular company be suitable for use by others?
Here the answer is obvious: there is no such system that would suit everyone 100%. Each company has its own nuances and unique processes that others do not have.
On the other hand, it cannot be said that all companies are completely different. Initially the system was created specifically for the needs of the company Technolex, however, the bet was made that there are a significant number of companies with similar processes and requirements.
Like any start-up, at the initial stage the Protemos system was more a reflection of the developers' vision. But naturally, one cannot count on the fact that the vision of the developers fully meets all the wishes and requirements of potential users.
Therefore, with further development of Protemos, users' opinions will be taken into account. All their feedback, wishes and recommendations will be recorded and analyzed, and then a specific action plan for the development of the system can be developed and adjusted.
The simplicity of use is a distinguishing feature of both systems: Protemos and smartCAT. Will they lose this important advantage in the pursuit of expanding functionality?
Developers of both companies constantly have to solve the problem of how to add useful and desired functionality, without complicating the system.
As stated earlier, the main drawback of many common solutions is that they are heavy and difficult to understand. Therefore, the creators of both systems are very cautious about adding new features and capabilities and are looking for approaches that will allow this to happen without compromising ease of use.
Developers of Protemos, for example, found their strategy to combat this problem. The system has a basic functional "backbone", which remains unchanged, and all other functions are placed in a separate section with the possibility of activation or deactivation. Thanks to this, Protemos remains a convenient, functional and flexible system that each user can customize for him or herself.
The reasons for integrating Protemos and smartCAT
In the case of Protemos, there were a lot of reasons: from the numerous requests of users to possible marketing advantages. But still the main and common reason for both systems to integrate is the creation of a certain kind of "ecosystem", in which routine tasks will be performed by machines.
Among other things, now when creating projects, you can enter information and upload files directly to two systems in one action, which saves time and reduces the possibility of errors. The integration of smartCAT and Protemos provides excellent business process efficiency.
---
In conclusion, we can say that both systems share a common goal—the desire to optimize business processes and create conditions for the most effective work of their users. And they share the view that automation and development of the cloud ecosystem are the right solutions for this task.
Although there are still a lot of prejudices and fears about cloud technologies, more people and companies are realizing the benefits and effectiveness of such tools. History shows that technological progress, and in particular any form of automation that can supersede human labor, has always at first encountered rejection. However, over time, technological innovations take root, because thanks to them, people can use the time that they previously spent on monotonous and standardized processes for tasks more creative and useful.
Therefore, the integration of Protemos and smartCAT is a kind of small step into the future.
In the future, where a person does not need to spend 90% of his time on routine, where he or she releases time for creativity and development, they can be devoted to really important tasks.