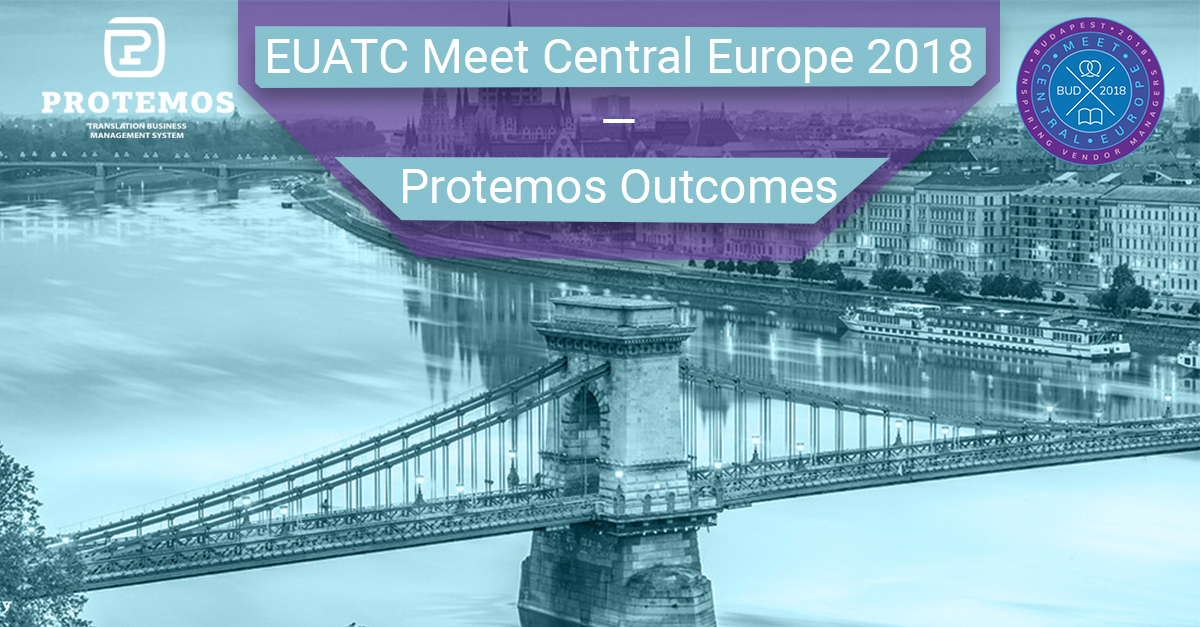 Protemos took part in the Meet Central Europe annual conference which took place on October 30-31, 2018 in Budapest. The company was represented at the international forum by Anatoliy Kondratiuk, client manager at Protemos.
We asked him to share his impressions of what he saw, and these are a few of his thoughts from an interview with Iryna Kharchenko.
What did you like most at MCE2018?
The warm, friendly atmosphere. It was nice that it wasn't a competitive space, it was more about collaborative communication, exchanging experience. Thank you to the organizers.
What place do IT solutions have in the modern translation industry?
A very important one. That's CAT tools, TBMS and translation quality assessment systems. Using IT solutions helps you spend less time on production so you can concentrate on quality. Even small agencies use IT solutions at the very least to automate and speed up the process of translation. So IT solutions are used very extensively.
What struck you most at the MCE2018 conference? Any new discoveries, perhaps, or any trends that weren't a big deal before but have suddenly become more relevant?
If we're talking about TBMS, I knew about all the trends beforehand. But it was certainly notable that a lot of LSPs are trying to create their own business management solutions. Everyone's results are different, but the trend is definitely there.
And are there a lot of companies like that?
Something like ten companies that I came across at the conference. For most companies, Excel and Google Docs are enough, they're happy with them for now. A lot of them are right at the point where they'll need to start implementing software solutions. One is actively looking: they're already using software but something about it isn't working for them, so they're on the lookout for something more suitable.
Why develop their own solutions? Aren't there enough existing ones?
The first reason is obvious — they want to build a system that matches their production processes as closely as possible. But with this you have to take into account what it will cost you to build a tool that really works and is user-friendly. Besides development, further system support, adding new functionality as and when necessary, training employees, etc., all comes at a cost.
In other words, you have to weigh up very clearly whether or not it's worth it. The time and resources a company might spend on creating a custom product could be put towards developing existing solutions, and the resources that are freed up put to use and turned into profit.
The second reason: not all companies are up to speed with the market in existing software for running translation businesses. Products that have been on the market a long time and everyone knows about are just a bit too expensive for small and medium-sized businesses. Protemos was also originally created as a custom product for a translation company, but it's been a few years since then and the situation in the market for translation-oriented IT products has totally changed. I'm not sure the company would have opted to invest in developing their own management system in the current climate. There would be no point. On top of that, a lot of the off-the-shelf solutions offer additional customization services that allow you to achieve both aims: to economize and get a product that's just right for you. And it happens to be far simpler and cheaper to buy and install an off-the-shelf solution than it is to develop your own from scratch.
From what I understand, customization also doesn't come cheap, so big name companies — the bigger LSPs and MLVs — take a shortcut and just buy an all-singing, all-dancing IT solution with extensive functionality then optimize it for their own business processes. Am I right?
Yes, but they rarely use all that functionality. They just caught on that they'd need a TBMS system years ago, when there wasn't such a wide selection of offerings on the market. Those one or two stalwarts, which we don't need to name here, are like spaceships. Not all agencies need such powerful systems. Simpler, more mobile IT solutions are available, Protemos being one of them. It's much easier to start working with them. And, by the way, this is applies to plenty of the smaller LSPs and freelancers that were at the conference.
Functionality, speed of installation, speed of work, integration with third-party developers' solutions, and mobility — these are all requirements of any modern TBMS. Plus immediate responses to queries from users and constant development — that is the only way to achieve success in our field today.
What was the biggest surprise for you at MCE2018?
I thought our product, TQAuditor (a translation quality assessment system — auth.), was a niche product, but it turns out a lot of companies are interested in it. It's definitely a unique product, it has no competition. I went there with the mind-set of promoting TBMS Protemos, but was pleasantly surprised to find many companies are actively looking to automate their translation quality control and training for their vendors. It's an excellent tool for them. It's really great that the demand in the market has finally caught up and we already have this solution that's able to satisfy it quickly and efficiently.
What is the future for IT solutions in Central and Eastern Europe, the area the MCE2018 summit is dedicated to?
As far as Eastern Europe goes — these are smart people, very easy to talk to, for many of them the advantages of online solutions over localized platforms are obvious. We were speaking the same language, there was no need to explain all the obvious things. In my opinion we have a great future there.
In your view, what trends are we going to see in TBMS solutions in the medium term?
First off, integration. Coming up with a universal solution is pretty tough, but integrating a variety of different solutions together — that's the real future. Even mini-systems could be looked at as types of integration with different CAT tools, working to achieve universality. This will be a steady trend in the coming years.
Incidentally, we recently integrated TQAuditor, which I mentioned before, with Protemos. You can now manage your business and instantly get all the information you need: the rating of each translator, who is better at what. You can assign jobs in a more targeted way, knowing the strengths and weaknesses of the translators. With integration on ProZ.com and Smartcat, Protemos is becoming more user-friendly all the time. We are constantly evolving in that direction — the future looks good.
You may also like to read other articles:
TRANSLATION MANAGEMENT SYSTEM (TMS) TYPES