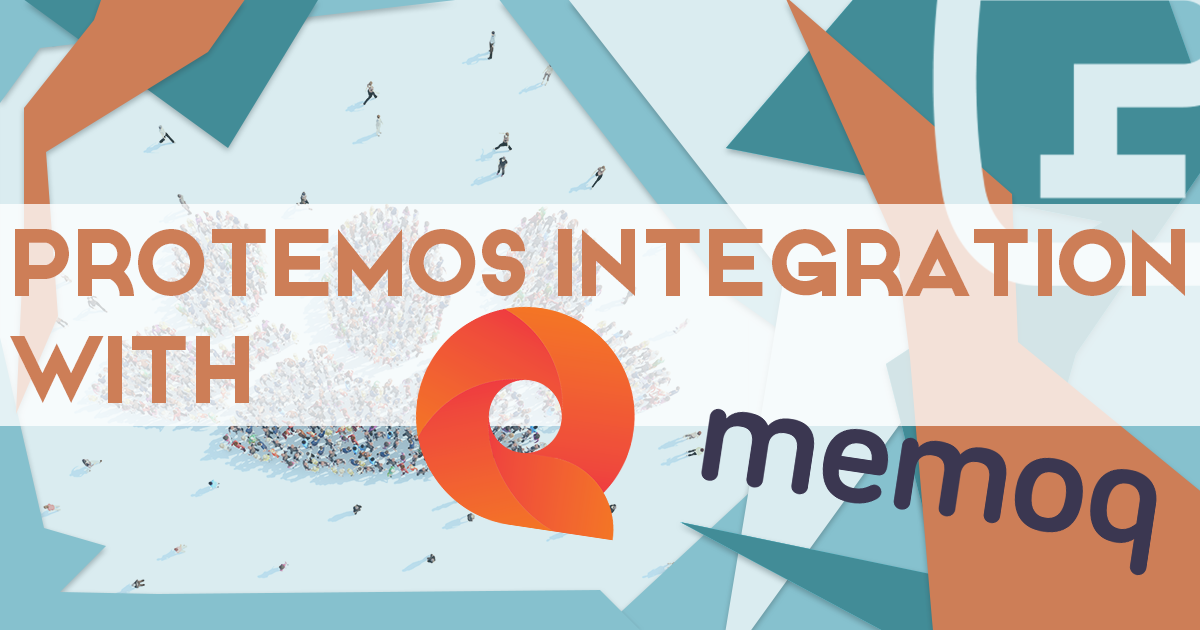 As we mentioned in Version 1.41 feature list, we have integrated Protemos with memoQ, an online CAT tool equipped with translation process management features. Here are our answers to some questions on the subject.
Why have you added this integration?
As always, we were guided by user feedback. And it appears that many translation companies are using both systems and have to transfer some data between them (e.g., memoQ projects need to be reproduced in Protemos and vice versa). It creates a lot of monkey work, as translation project managers have to copy-paste the info on the client, languages, files, word count, etc. between the systems. Due to this, many Protemos users requested us to link the system with memoQ, and we've done it.
How does the integration work?
The integration is described in detail here. To put it short, it allows you to copy Protemos projects into memoQ and vice versa. Thus, you no longer need to create the translation project in 2 systems from scratch. With just one click of a button, you can copy the common project information, including client names, language pairs, translation files, deadlines, etc.
Both tools are managing the translation process. Aren't they replacing each other?
Indeed, some functions of the tools overlap, and they both are described as "translation management systems." In both of them, you create a translation project and assign jobs to linguists; therefore, you are managing a translation process. But each system has functions that are not present in the other one, namely:
memoQ is an online server-based CAT tool with translation memories, termbases, text editor, and lots of other features required for translating texts.
Protemos is a business management tool that allows you to manage not only the translation process but also many other aspects of running a translation company, such as invoicing and payments, client and vendor relations, prices, sales, recruiting, business reports, etc. Moreover, not all projects go through memoQ, but they all should be recorded in a single database.
Thus, Protemos and memoQ supplement each other and enhance your translation project and business management capabilities.
Is the current version of the integration final?
Of course not. We want to develop the integration further and reproduce more project details when copying them between Protemos and memoQ. But we need your feedback to gain more insight into how you'd like it to work. So, if you have any suggestions, please share them with us.