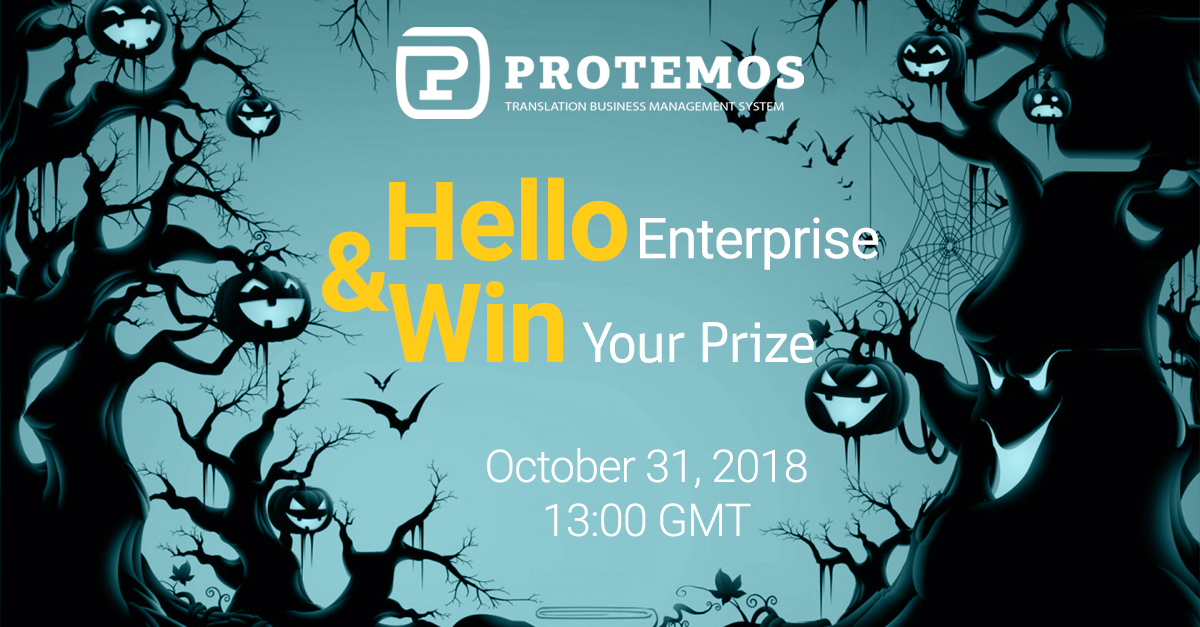 - What big eyes you have!
- To see the whole picture of my business.
- What big ears you have!
- To hear all the needs of my client.
- What big mouth you have!
- To convey all my ideas.
(Based on the well-known fairy tale)
On the day of Halloween when the whole world is covered in darkness, Protemos takes the light side!
We welcome you, dear Stranger, to the chamber of TBMS solution adepts!
Come to our Hello&Win Prize Draw online-session to join other LSP CEOs, who are dreaming about more time for strategic issues just like you, as well as enterprises that have already felt the taste of freedom from routine through using Protemos in their business.
Our doors are widely open!
We're waiting for you on
October 31, 2018 at 13:00 GMT
You have exactly 13 days to get acquainted with TBMS Protemos if you need and come up with your set of questions to ask Volodymyr Kukharenko—Protemos CEO and the Master of the ball—during the prize draw session where you can claim one of the gifts we prepared for you.
WHAT CAN YOU WIN?
Logitech Webcam C930e (960-000972)
Water resistant acoustic Auluxe X5a (BP 3020)
Headset Philips SHQ3405BL/00 Sport
HOW CAN YOU WIN YOUR PRIZE?
Register!
Fill in the registration form to get your link for the prize draw online-session
Leave your site URL!
While filling in the registration form, please don't forget to mention your company web-page
Stay online!
The reward can be obtained only by the winners who are online during the prize draw
Everyone's invited!
If you need a special invitation to come—here it is: http://protemos.tilda.ws/halloween
Complete this form, and we'll send you the link to the event and notifications 1 day and 1 hour prior to the start.
Follow the event updates on www.protemos.com and on social media: https://goo.gl/ThXiS3